Music Remembrance
Music Remembrance has provided music ensembles and bands throughout Florida for wedding ceremonies, wedding receptions, events, memorials and singing and musical telegrams since 1990. Specializing in providing the best and and largest selection of entertainment, Music Remembrance uses the finest full time professional musicians from Walt Disney World, Universal Studios and the Symphony providing everything from symphony orchestras to blue grass bands. Music Remembrance coordinates details with your other vendors and planners to ensure everything runs perfectly and provides you with personal service that makes your music personalized for you.
Music Remembrance, Personalized Music that Makes Memories.
Andrea Rowlison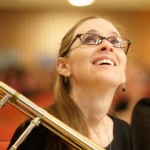 Client Coordinator Andréa Rowlison, a well-respected professional musician in Orlando with over 25 years of experience, provides one-on-one personal service to you. She helps you select and organize your wedding music and coordinates details with officiants, wedding, event and memorial planners to make sure the music for your day is perfect. Through Music Remembrance, Andrea uses her love of music to bring the highest quality musicians in Florida together to make your event spectacular. Using her extensive contacts within the music industry, Andrea is able to coordinate a wide variety of musicians to meet the needs of any service. All musicians selected for Music Remembrance are professionals of the highest caliber that believe in doing everything possible to fulfill all of your dreams and wishes.
Biography
Andrea Rowlison received her musical training at the Interlochen Arts Academy, Bowling Green State University and the University of North Texas where she completed Bachelor and Master of Music degrees and course work toward a doctorate.
She has performed with the Toledo Symphony, Sigmund Romberg Orchestra, Brevard Symphony, Orlando Philharmonic, Orlando Symphony, West Coast Symphony, Flagler Symphony, Grand Travers Bay Symphony. Monarch Brass, and the Tower Brass Quintet.
Artists Miss Rowlison has performed with include Dizzy Gillespie, Nancy Wilson, Frank Sinatra, Jr., Ray Charles, Tito Puente, Millie Puente, Carl Fontana, Bill Watrous, Louis Bellson, Kenny Drew, Jr., Mills Brothers, Sandi Patti, Connie Francis, Julius LaRosa, Teresa Brewer, The Fifth Dimension, O'Jays, Temptations, Four Tops, Englebert Humperdink, Percy Sledge, Mary Wilson and the Supremes, Barry Manilow, Joe Piscopo, Shirley Jones, Peter Marshall, and the Harry James, Guy Lombardo, Xavier Cugat, Tommy Dorsey, Charlie Spivak, Gene Krupa, Sy Zentner, Larry Elgart, Sam Rivers, Ralph Carmichael and Nelson Riddle Orchestras. Broadway shows performed include, Chicago, Camelot, Peter Pan, The Producers, My Fair Lady, State Fair, Sweet Charity and The King and I. Miss Rowlison was solo jazz artist for the 2006 and 2010 International Women's Brass Conferences. She was the director of Jazz Studies at Seminole Community College for five years and Professor of Music at Rollins College and is currently trombonist for Universal Studios, Space Coast Pops, Florida Lakes Symphony and the Walt Disney World Orchestra.
As a published author of wedding and event music articles her articles can be read on: