I am a full-time freelance trombonist in Orlando Florida. I've learned over the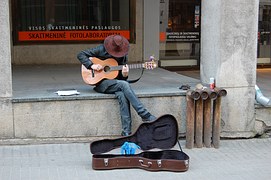 years, in a dwindling market for live music, that there are many things that you can do to create work.  More importantly there are many things that you as a freelance musician can do that will prevent you from getting work. This article will focus on the latter. I will go over the simple guidelines of gigging etiquette so you will not make mistakes that can cost you work. I will be doing a series of articles on this subject and will cover how to create more work in future articles.
Before I go over guidelines, here are what some successful working musicians think are actions and attitudes that prevent some musicians from being marketable, thus getting called for work.
"Probably the no. 1 thing that keeps some musicians from working is that they don't understand that the goal is to make people happy or they do understand and they are not willing. " –  John DePaola
"Musicians don't understand that the playing time is a small portion of the gig. Leaving time to load in, client relations, etc. are the more important factors." – Willie Rast
"Complaining to the client, showing up late, not showing up at all, showing up unprepared, making up excuses why they are late, getting drunk on gig, showing up drunk, sleeping with someone in the band, giving out your business card to clients on someone else's gig, complaining about gigs on social networks for clients, your bandleader and potential contractors to see, saying no to requests from clients, bad attitudes to clients."  –  Dean Mosley
"Other than the obvious answers — habitually late, poor playing, personal dress/hygiene issues, conflicts with other musician's on a gig — maybe not marketing oneself properly. I think that most musicians who aren't working for an institution (orchestra,college gig, secondary and primary education, military, theme park, music industry) struggle with the fact that it's not just how you play that's important to creating a career. I think more and more musicians will need to create opportunities for themselves. So underestimating the market place and not making an adjustment to recognize that how you play isn't always the most important part if your business."  – Paul Weikle
"Showing up late for rehearsals or for the gig, not actually being able to play the music well, being difficult to work with, being unprepared in general." – William Hamilton
"Bad attitude and behavior."   – Gene De Lisa
"Be sober. Duh… " –  Robert Kelleher
"Never shake hands on stage. The client thinks the band lives together like the Monkees. They get nervous when they see band members meeting for the first time."
"Going around the agent and talking to clients about using your group. Handing out your personal cards when working for an agent. Getting into food before being invited. Being late, drinking and smoking on stage, forgetting your gig clothes." – Jim Lucas
"Asking questions about something that was already explained. Not offering help to bandleaders when they are clearly having an issue with something that you could help with."  – Chris King
Basic do's and don'ts for being a more successful freelance musician
For this section I would like to make a note that some things may work differently in some cities depending on the number of musicians and other factors.  From my experience as a free-lance trombonist for the last 25 years, these are the business practices and etiquette that I have observed in the most successful free-lance musicians.
One thing that I see over and over again is great players that are not able to make a living because of their lack of knowledge of business practices and etiquette. I will share several specific do's and don'ts but most mistakes happen because musicians don't observe a few basics:
1. Be considerate and responsible
2. Be nice
3. Be easily available
Be Considerate and Responsible
1. Be honest
Lying to get out of a gig so you can do another gig is not only wrong, you most likely get caught by the contractor or others who will see and no longer trust you. You are your word and your reputation.
2. Once you take a gig, be there
Don't sub out to take another gig or for any reason but a true emergency.
(Even in the case of an emergency contractors often won't believe you unless you have a long-standing reputation with them and you may burn that bridge. Years ago I had a reaction to anesthesia after an out-patient surgery that delayed me getting back to work. I had my first gig with a contractor. I found out from others that he figured that I was making it up and that I probably had another gig. I have never worked for him again.)  That lets everyone know that your word is not good. No one will want to call you for work if they are afraid that you might bail. Put yourself in the contractor's place. You take the gig and cancel three weeks later. At this point his/her second choice of players are no longer available but may have been when he/she called you. You can either have a reputation as someone who always does gigs that you take or doesn't. It's one or the other.
3. Be prepared
If you get music sent ahead of time, practice and be prepared. If there is going to be a conductor, over prepare so that you know the music and can really watch. As a woman, I see a lot of minorities and women that have trouble breaking in. One way to break through the barriers and stereotypes is to find out as much as you can about gigs you may do and be as prepared as possible. My theory has always been you can whine about injustice and give up, or you can work harder and try to change people's closed minds by educating them when you nail the gig. You may only get one chance to prove yourself. Don't blow it. Copy the book and learn it if possible. Another step in being prepared is always having the right equipment e.g. pencils, mutes, stand if needed, wind clips, doubles, extra power chords and cables, extra strings, extension chords, stand light if needed. Pencil is especially important of course when a rehearsal is involved. A bandleader/conductor may get upset if they are giving instructions and you are not marking the music. The consequence of not having one even if you remember the details given can be no return calls. When forgetting pencils and other equipment the musicians around you can take note and not want to recommend someone who seems irresponsible. I heard an unhappy bandleader make a comment recently regarding a young musician,, "The guy brought six beers and no mutes."
4. Be on time
I often observe self-sabotage to great musician's careers when they get a reputation for being late or not showing up. The leader doesn't want to hear about the traffic, flat tire how you got lost or thought the gig was next month. They just want you there on time. Leave lots of extra time for mishaps and have your cell phone and the leader's phone number and venue phone in case you truly can't find the location. Don't rely on your GPS. Look up the venue on a map before you leave. I use the satellite setting to see what the location, load in and parking look like as well.
Make sure that you know how long the gig is and how long it takes to get to the next gig. Don't book things too close together leave extra time for overtime, traffic , etc.
Think about these things and develop a great reputation as someone who is always on time. You will often get work over a better musician that is sometimes late.
5. Be there
You must be meticulous about your schedule. When you accept gigs make sure that you have one calendar that has all pertinent information, gig distance , etc. Double check date with day of the week for mistakes. You may get asked to play Sat. the 25th but the calendar shows the 25th is a Sunday. Do they want you for Sat. the 24th, Sunday the 25th or are they looking at the wrong month? Be the one in the band to catch the mistake and avoid gig disaster for yourself and the contractor.
6. Dress correctly
If the gig is tux, wear a very nice tux. Suit when suit. How you look is often more important to people hiring the band than how you play. Wearing the wrong clothing or looking sloppy could lose the gig for the bandleader and they know if. It is a great way to develop a negative reputation and not get call backs. I see some of the greatest players not get much work because of this one facet.
7. Drugs & alcohol
This may have been more accepted during the be-bop era but there are fewer gigs and more highly trained musicians now. Gain the extra edge and don't ever show up to a gig stoned or drunk. It only takes once to get a reputation and make contractors nervous about hiring you. It's too easy to get someone who won't breathe whiskey breath on a client or someone else that may complain.
The next group of "be considerate" tips could be referred to as the "be nice" rules
7. Don't brag
Everyone is suspicious and annoyed by a name dropper or a "I played on this gig" dropper. Let your playing do the talking.
8. Don't talk about your gigs
The musician next to you that has had a bad year and is really scraping by does not want to hear about how tired you are because this is your third or fourth gig today. Conversely, talking about how you don't have any work may make a bandleader wonder why they are the only one hiring you. I'm equally amazed when I see the rude etiquette of a player pointing out that they got called before someone else for a gig.
9. Don't gossip
Repeating rumors or saying negative things about musicians personally or professionally is not a good idea. Besides not being nice it often gets around that you said it. It's a great way to make enemies and lose gigs.
10. Be positive
No one wants to work with someone who complains all the time. It brings everyone down. If you complain about the gig the contractor may hear about it and hire someone who appreciates the work more.
11. Be nice to everyone
If you can't do that because it's the right/nice thing to do, do it because the person that is hard to be nice to may contract gigs later or have influence over a gigs that you may need or want. Don't ever burn a bridge. You will most likely regret it later when you may need work. Besides, if you are nice and fun to work with you get called and recommended for more work.
12. Don't be too nice
Side-men and Side-women don't appreciate it when you "suck up" to a band leader or contractor. Get gigs on the merits of your talent, preparedness, responsibility and easiness to work with. I recommend this especially to women because of the danger of even the appearance of "flirting your way into a gig". This can diminish the respect others have of your ability and you can make enemies of musicians that wanted the gig. As a women some musicians are going to assume less of your abilities and are looking for this to validate their views. You can flirt your way into a gig but then the others on your instrument may be upset and not recommend you for gigs and you will have less work in the long run.
13. Play your role
Don't let arrogance interfere with your ability to play your role. Know what your job is, do it to the best of your ability and don't do others jobs.  For  example:
You are hired to play second trombone in an ensemble. Balance and match style whether or not you agree with the first players interpretation or skill level. Don't let arrogance and inexperience lead you to try to lead when it is not your role. You will surely make enemies of the first player, their friends and anyone else that notices that you are interfering with proper music making.  I could easy fill pages about musical violations caused by a musician's arrogance, unkindness and/or personal immaturity but will save that for another article.  Just to name a few here, rhythm players playing too busy, too loud and not listening or following soloist, adding things to the music out of boredom, high notes in bad taste, playing higher than lead player, not playing the style and ignoring the conductor, bandleader, or instrument in leadership role.
14. Giving advice or Instruction to co-workers
It is my personal opinion that in most cases it is inappropriate and disrespectful to tell others how to play when you are not the conductor/bandleader. You are all coworkers. Musicians should be able to listen and follow. If they are not good enough to do that telling them how to play probably won't help anyway. If you choose to disregard this advice, you will often offend musicians and cause them to not recommend you.
15. Recommending musicians
If you are asked to recommend someone for a gig, take the opportunity to help someone get work. They may also return the favor. But, never volunteer who you wouldn't use and why. You may be asked to recommend someone to replace someone. Run. You are helping them fire that person by setting up a replacement. I've seen this many times and there was always negative work consequences for the person recommending from the person that got fired and/or their friends.
16 . Respect others gigs
If you are on a gig subbing for someone and you are asked about joining the band or doing the next gig my response is always: Thanks for the work tonight, if name of person you are subbing for can't make the gig I'll be glad to help out. Make sure you are never "stealing" someone else's gig. It's the right thing to do and people will be thankful and respect you for it.
17. Don't undercut                                                                                                              Try to make sure that you are not working for less than other musicians on the same gig.  I heard about a trumpet player that did not need the income who would offer to play for free putting other trumpeters out of work.  He got gigs because of it but no one would recommend him for other gigs and he worked less in the long run.  Recently a jazz trio had a steady gig and a larger group offered to play the same club for the same money.  This lowered the pay per musician and undercut them out of a gig.
Being Available
Basics about being available seem common sense but I'm amazed at the number of great musicians that ignore them and lose great amounts of work.
1.. Answer phone calls as immediately as possible.
2.. If you have two phone numbers (home and cell) check both messages very often
3.. Check and return e-mail as immediately as possible. I suggest a phone or device with e-mail.
4.. Have polite phone and e-mail etiquette.
5. Be polite and express gratitude for the job invitation.
6. Don't tell a contractor/client that you are available but won't do the job because…….(e.g. My friend and I have ticket to, I have a date)
When a contractor wants to use you it is a compliment to your playing. It is insulting to say that you'd rather go to the football game than play with/for them. It is especially annoying when they really need you for that gig or they are scrambling at the last-minute to get a player. Also remember that if you can help out a contractor by working a holiday or Superbowl Sunday they often will thank you with more work. Many of the groups that I now work for my first gig with them was Christmas or some other day that was especially hard to get players. It's a great way to open a door.
These are a few of the common sense guidelines for gigging. If followed I believe you will develop a good reputation and get more work. If you examine them they boil down to: be honest, be kind, be considerate of others, be prepared and hard-working.
If you are wanting to freelance, please take some time and look around our website to see how we advertise our ensembles and soloists.  Please leave us feedback if this article was helpful to you.  Happy gigging!
Contact Us
Music Remembrance | Orlando, Florida
Andrea Rowlison, owner
Licensed and Insured